Maxon CINEMA 4D Studio is a professional 3D modeling, animation, simulation and rendering software solution. A fast, powerful, flexible and stable set of tools makes 3D workflows accessible and efficient for design, motion graphics, visual effects, AR/MR/VR and game development. Cinema 4D delivers amazing results whether you're working alone or in a team.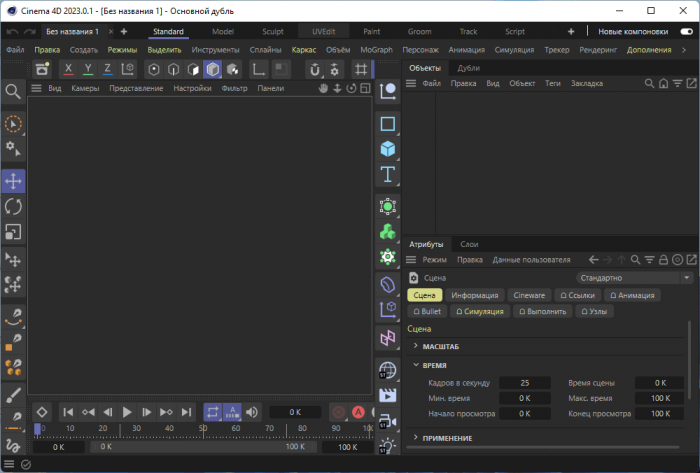 Key features:
• Ability to work with parametric and polygonal objects.
• Expanded system of materials and textures.
• Possibility of three-dimensional drawing.
• Built-in non-linear animation system.
• Availability of a system of dynamics of rigid and soft bodies.
• Lots of character animation tools.
• Event-based particle system.
• Rendering hair and fur.
• Realistic visualization and sketch rendering.
• Availability of IES light sources to easily create natural light.
• Support for color profiles.
• Built-in image manager.
• Support for OpenGL3.
• Availability of built-in Python programming language.
• Support for true units of measure.
• The presence of a rendering manager.
• Import and export files in various formats.
Benefits of the program:
MODELING
• Polygon modeling
Polygons are the building blocks of 3D graphics. By docking them, you can create any objects. With Cinema 4D's full range of polygon modeling tools, it's easy to create anything from cars to living creatures.
• Parametric modeling
Parametric modeling will allow you to keep your 3D visualizations flexible to the end. You can change objects in scenes at any time, as Cinema 4D provides a wide range of parametric modeling options that allow artists to make almost any change if the customer needs it, even at the very last moment!
• Sculptural modeling
Model organic surfaces and easily enhance the level of detail on any object using the fully integrated sculpting system in Cinema 4D Studio and BodyPaint 3D. Simply click on Break Up to increase the level of detail by turning a regular wireframe into digital clay. Sculpt the frame with intuitive sculpting tools that extrude, smooth, squash, cut and compress the surface. Use advanced symmetry options, stamps, templates and masks to create complex sculptures and surface details.
TEXTURING
• Materials and shaders
Cinema 4D provides a flexible and fast material creation system, with parametric shaders for quickly defining the surface of a 3D model. Create exquisite photorealistic materials with multiple layers of reflections or unique abstract effects using Cinema 4D's material channels and many special parametric shaders.
• Painting
Procedural materials provide fast results, but perfection is in the details and there's no better way to achieve highly detailed, pixel-perfect textures than by painting them directly onto your 3D model. With BodyPaint 3D and Projection Man, high quality textures are just a brushstroke away.
ANIMATION
• Overview
Move scenes into the fourth dimension with MAXON Cinema 4D. Creating professional 3D animation has never been easier or more intuitive. Almost every parameter of an object, material or tag can be recorded simply by clicking on the circle next to its name. To make it easier to create keys, you can activate the automatic animation recording of all or certain parameters. The animation panel will allow you to quickly define keys for a given position in any frame and modify existing keys without leaving the default layout.
• Character animation
Cinema 4D provides a wide range of robust and easy-to-use character animation tools to help you create lifelike characters and make character animation easier to create. Advanced features such as quaternions, Cappuccino to record cursor movements into position data, and auto-update to create dynamic IK rigs simplify the workflow for character animators as well as riggers.
• MoGraph
With the MoGraph toolbar, artists have a set of powerful tools at their disposal that make it easy to implement any of their ideas from flying logos to abstract effects. Clone countless objects and create voluminous texts with a few clicks. Add effectors to compose objects, give them movement, and more – without even creating a single keyframe! And it's all fully integrated into Cinema 4D for fast and easy operation.
• Simulation
Where a large number of objects or particles interact with each other or are subjected to forces such as wind or gravity, traditional animation methods quickly reach their limits. Animating these elements separately is a gigantic task. But this is where simulation can help. Sophisticated algorithms are used to create animations and interactions between elements – and Cinema 4D provides a wide range of features and presets to create breathtaking physics simulations and realistic effects.
VISUALIZATION
• Overview
Cinema 4D's various rendering options allow you to quickly achieve great results thanks to their linear process, color profile support, multiple processors, HyperThreading and multi-core technology. The built-in render engine is a professional tool for creating outstanding images and animations, from conventional 2D and 3D to stereoscopy.
Multi-pass rendering allows you to quickly render color, shadows, reflections and other effects into separate files. Numerous object-based alpha channels make it easy to layer the image along with other 2D and 3D components. With direct export to standard software such as Adobe Photoshop, Adobe After Effects, Final Cut Pro, Nuke, Shake, Fusion or Motion, your multi-pass layers are instantly compositing ready. Cinema 4D supports rendering in 16-bit and 32-bit color depth for high dynamic range images in DPX, HDRI or OpenEXR formats.
• Lighting
Cinema 4D has a large number of types of lights and shadows that can light up even the darkest corners of a scene. The incredibly powerful Cinema 4D lighting system provides numerous options for controlling color, brightness, attenuation and other properties, as well as changing the density and color of the shadow of each light source. Light settings such as contrast, lens reflection, visible light, noise and the ability to use Lumen and Candela values ​​will bring your scenes to the highest level of realism.
WORKFLOW
• Library Browser
Cinema 4D comes with an extensive library of presets. It includes objects, materials and scenes that make it easy to start working on a 3D project. Use these outstanding resources to quickly create concepts without spending a lot of time modeling (or money to buy models), or disassemble entire scenes created by the best Cinema 4D artists to improve your skills. The contents of the libraries are carefully selected for the requirements of individual areas of activity, with a large selection of components, including models, materials and customizable presets.
• System of duplicates
When shooting a film, multiple takes are recorded, which gives more options in the editing room. Cinema 4D's take system provides the same flexibility, allowing you to store different versions of a scene in a single file. You can easily create custom render passes for compositing, but the take system allows for much more than the usual render layer system. Change and save the value of almost every Cinema 4D setting – object attributes and animations, lights, cameras, materials, textures, different colors and more.
• Tracking
Quickly and seamlessly integrate 3D elements into your footage with Cinema 4D's motion tracker. Add 3D objects to the real world with the camera tracker, or use the object tracker to replace real objects with 3D creations.